KSC Jazz Ensemble Presents Latin Fire Encore (4/28/04)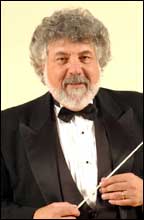 KEENE, N.H. 4/6/04 - The Keene State College Jazz Ensemble performs an encore "Latin Fire" program of hot jazz on Wednesday, April 28, at 7:30 p.m. in the Main Theatre of the Redfern Arts Center on Brickyard Pond. Tickets are $7 for the general public and $5 for KSC faculty, staff, and students; senior citizens; and youth age 17 or younger. Call the box office at 603-358-2168.
The "Latin Fire Revisted" will feature guest soloist Paul Lieberman on saxophone, flute, and piccolo. Lieberman was the guest artist during the KSC Jazz Ensemble's first "Latin Fire" program in spring 2001.
Lieberman is a clinician in Brazilian music at the University of Massachusetts-Amherst and co-owns one of the largest distributors of art prints and posters in the United States. He has toured the United States with Brazilian music stars Airto Moreiro and Flora Purim, performed in the first annual Free Jazz Festival in Rio de Janeiro, and lived four years in Brazil, where he enjoyed a well-balanced musical diet of instrumental jazz and Brazilian music in the clubs, touring with Simone, one of Brazil's biggest pop stars. He also did studio work, recording on more than 50 albums for many of the greatest names in Brazilian vocal and instrumental music. Today, he continues to perform in Rio de Janeiro and New York.
Baldini, an artist-in-residence, also directs the KSC Chamber Orchestra, which will perform a program of concertos and arias on Friday, April 30, at 7:30 p.m. in the Redfern Arts Center. Baldini came to Keene State after a professional career as a studio musician in Los Angeles. He appeared for 13 years with the Tonight Show Orchestra and toured with Frank Sinatra, Johnny Mathis, Peggy Lee, and the Harry James and Toshiko Akiyoshi/Lew Tabakin bands. He currently performs with the Vermont Symphony Orchestra, the Dartmouth Symphony, Opera North, the Keene Chamber Orchestra, and several local chamber music and jazz groups. Baldini, who lives in Saxtons River, Vt., also teaches at Dartmouth College.
Related Stories