Nona Fienberg Appointed Dean of Arts and Humanities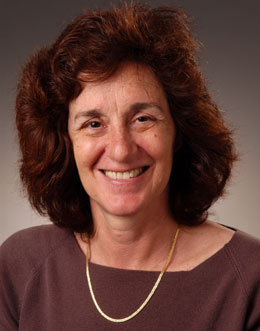 KEENE, N.H. 4/6/04 - Nona Fienberg, professor of English at Keene State College, has been appointed dean of Arts and Humanities at Keene State. Dr. Fienberg, who served as interim dean for the 2003-04 academic year, will begin her appointment on July 14.
Dr. Fienberg began working at KSC in 1991. She earned her bachelor's degree from the University of Toronto and her master's and doctoral degrees from the University of California, Berkeley. At Keene State, she served as chair of the Department of English for eight years, helped to create the Holocaust Studies minor, and has participated in the activities of the Cohen Center for Holocaust Studies since its inception. She has also had a long-time involvement in the Women's Studies minor.
Dr. Fienberg has published widely in the field of Renaissance studies, with a particular interest in Shakespeare and in Renaissance women writers. She is the author of Elizabeth, Her Poets, and the Creation of the Courtly Manner (Garland, 1988), and she is currently completing a book for College Publishing, The Writings of Lady Mary Wroth, an edition of selected works of a Renaissance woman author, situated in cultural contexts. Dr. Fienberg conducted research for this volume as a Folger Shakespeare Library Fellow in the summer of 2003. She teaches literature of the Holocaust and recently published "Teaching 'The Tumblers': Nathan Englander in the Literature of the Holocaust."
"I'm delighted to have the opportunity to work with my wonderful colleagues in Arts and Humanities, across the campus, and throughout the community," said Dr. Fienberg. "I've enjoyed the challenges and opportunities of my year as interim dean and I look forward to the good work that we have mapped out for ourselves at Keene State."
Among Dr. Fienberg's responsibilities is guiding the Arts and Humanities division through campus-wide academic initiatives, such as the move toward four-credit courses and the revision of the College's general education courses. "I would like to see us working together to make our best contribution to student learning on campus," she said.
Prior to coming to Keene State, Dr. Fienberg taught at Carleton College, the University of the South (Sewanee), Millsaps College, and Iowa State University.
According to Janet Gross, vice president for academic affairs, Dr. Fienberg has served Keene State as an inspiring teacher, creative scholar, and committed campus citizen.
"Her effective performance this year as interim dean builds upon the administrative expertise and success she achieved as chair of the English Department," said Dr. Gross. "In that role she worked with her department to hire outstanding new faculty members and to transform the English and American studies curricula into strong four-credit, learning-centered programs.
"We look forward to the Division of Arts and Humanities flourishing under Dr. Fienberg's leadership."
Related Stories