Student Composers and the KSC Percussion Ensemble
Redfern Arts Center
Thursday, · -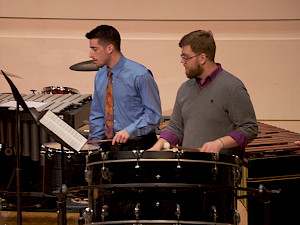 The talented and experienced KSC Music Department composition faculty train students in compositional techniques within a variety of styles and forms. Student composers also learn about orchestration, notation, rehearsal skills, and applicable technologies. Students enrolled in composition classes or lessons must develop a piece from concept to performance by the end of each semester. These works are showcased in the bi-annual Student Composers Recital, which features student and faculty performers who work in collaboration with composition students to bring new compositions to life.
Percussion, often regarded as the "heartbeat" of nearly every musical style, consists of traditional instruments such as timpani, snare drum, bass drum, cymbals, triangle and tambourine. Under the innovative direction of Christopher Swist, new music technologies are combined with classical, time-honored instruments. Percussion classes at KSC include Applied Percussion/Composition, Percussion Ensemble, Percussion Methods, Music Technology, and Music Theory.
Tickets are $5 for students and seniors, $10 for adults. Please contact the Box Office at (603) 358-2168 for more information.
This event is part of the RAC Music Department calendar and is open to the public.
Contact:
Redfern Box Office
603-358-2168
To request accommodations for a disability, please contact the coordinator at least two weeks prior to the event.