Stinehour Getting the Most out of His Keene State Experience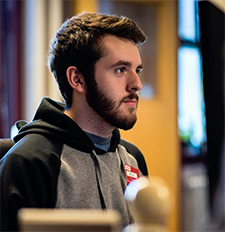 Sean Stinehour can't be accused of not getting his money's worth at Keene State College. In addition to maintaining a rigorous academic schedule, the senior computer science major from Littleton, New Hampshire, can be found all over campus, working as a tutor and teaching assistant as well as serving as a member of the IT staff tech crew and managing the Computer Science Department's server room.
But that's just for starters. Stinehour also finds time to be a resident assistant after working as an orientation leader over the summer. If that wasn't enough, he's working on an IT project for a media scheduling system and helping a museum in Vermont to set up a Morse code simulator. How does he find the time? "I just cut out the whole sleep portion. It seems to be working out pretty well," said a smiling Stinehour, who recently pledged a fraternity and is a member of the Upsilon Pi Epsilon Honor Society.
Stinehour attributes his success and wide-ranging experience to the College's computer science department. "I know all the professors by name and know how they can help me," he said. "They are passionate about what they do."
Stinehour likes a challenge and likes to be challenged—and he's been known to challenge his instructors. "Every semester, I'm challenged by a student who progresses rapidly beyond the others. Sean was that student this semester. He not only challenged me in one class, but in two," said Computer Science Lecturer Matthew Onyon. "I put challenges to him that were separate and advanced from our class and he quickly met and then exceeded them."
Stinehour didn't waste time building an impressive resume. A self-described "techie," he attended Conval High School, where he supplemented his engineering and networking classes by joining the radio and robotics clubs. He also spent two summers interning at Dyn in Manchester, New Hampshire, where he did IT and network operations work.
The cost and proximity, coupled with a strong endorsement from friends, brought Stinehour to Keene State. Taking advantage of the vast opportunities at the College, Stinehour has created numerous options for himself when he graduates. "My professors say that I'm competent enough to not only go into the job force but also look into doctorate programs and masters programs," he said. "That's a real nice endorsement."
Stinehour, who will return for his final semester this spring, still has a few more projects on his plate. He's looking forward to doing research work with Associate Professor Wei Lu, who is looking into the Distributed Denial of Service (DDoS) attack Dyn sustained last fall. "I'm super pumped to do that," he said.
Related Stories