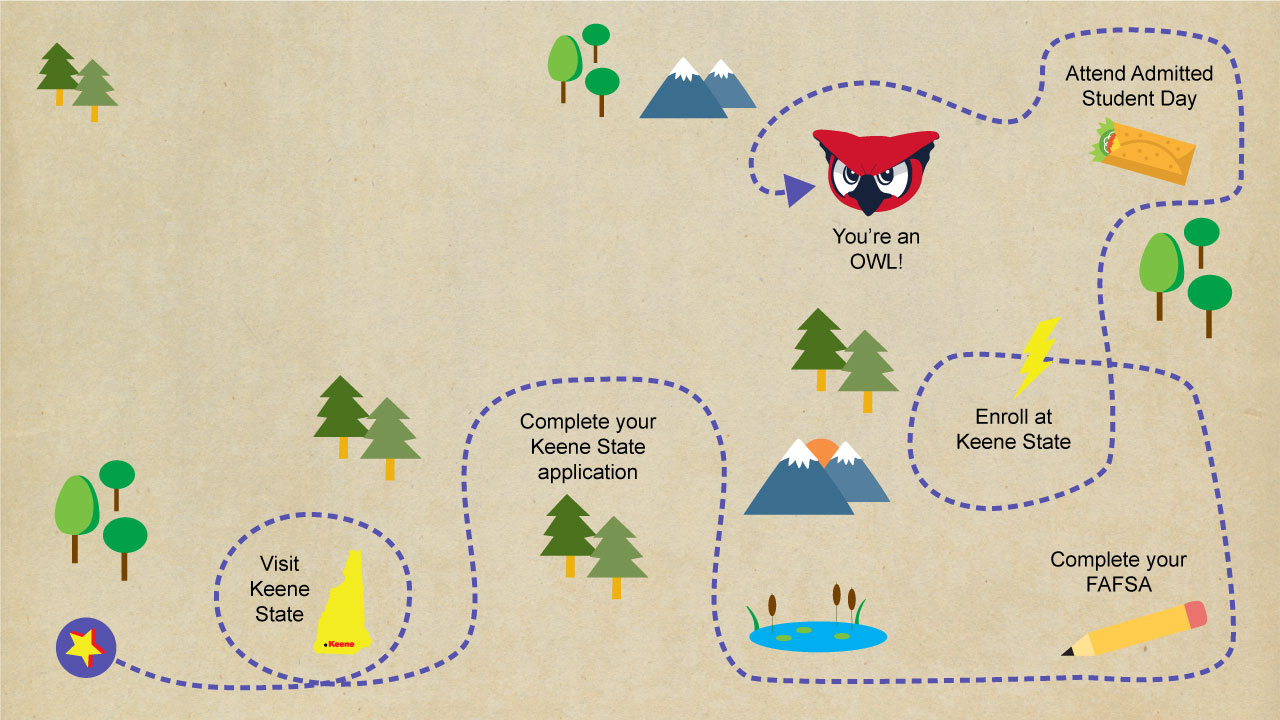 Your Road Map
to Keene State
Future Owls, start here!
Deciding to go to college is an important step. You're choosing the college experience you want. Keene State offers you the programs, resources, mentors, and social connections to make it real.
You'll learn, grow, explore, and leap into your future when you're a part of our welcoming and supportive community. Get ready to learn more about yourself than you ever thought possible, express yourself through your interests, and make lifelong connections.
This roadmap to Keene State will help you get to know us and get your questions answered while you discover Keene State College. At each step in your journey, you'll get Keene State swag as you complete each of the following stops. Collect them all and you'll have a collection of Keene State gear to show your Owl Pride! Choose your path to Keene State – it's totally up to you!
---
Your Destination Awaits...
Attend a Virtual Information Session & Campus Tour
An admissions counselor will provide a sneak peek into life as a Keene State Owl and give you a sense of what it means to be part of Owl Nation. You'll get an overview of campus, the city of Keene, our majors, student life, living on campus, and the application process. Plus, you'll get to ask your questions!
Attend a session and we'll send you a Keene State webcam cover to add to your collection.
---
---
---
Become an Owl – Officially!
Your hard work has paid off. Once you decide on Keene State, take the next step by claiming your spot and paying your deposit by May 1. Once you're officially enrolled, you'll receive information about choosing your residence hall and future roommate, and registering for a summer Orientation session. You have officially arrived, welcome!
As our newest member of Owl Nation, we'll welcome you with a pin to complete your Keene State collection.
---