Corporate Relations

Business and Industry Partnerships with KSC
At Keene State College, we understand the importance of the relationship between business and higher education. Whether you are a large, established manufacturer or a growing tech start up, Keene State wants to get to know your company, your challenges and your opportunities. We want to be a valuable strategic resource to you.
Below are some of the ways we can help.
---
Access to Talent
The biggest thing is to really push yourself and try to stand out in the crowd as much as you can. You only get a chance to do this once, so make the most of it.
–
Will Ferguson
2014,
Sustainable Product Design & Innovation
Today's Keene State students are tomorrow's business leaders. Our liberal arts foundation develops the strong skills that successful business leaders need: communication, teamwork, problem solving, and conflict resolution. Degree programs in sciences and professional studies prepare students for a range of scientific and engineering careers. Internships and co-ops provide opportunities for our students to become the strong innovators, leaders, and managers that will allow your business to grow and thrive in years to come.
Read what our business partners and alumni have to say about Keene State:
---
Staff Training
"Hitchiner wanted to create pathways for advancement for ambitious employees. Keene State has been very responsive to our needs and worked with us to create a program that has been enthusiastically received by our employees."
– Tim Sullivan, VP, Hitchiner Manufacturing
Keene State can provide training to improve the skills of your existing workforce through courses offered by our Continuing Education Department.
Drawing on resources from Keene State College, River Valley Community College and the Keene Community Education Program, the Regional Consortium for Advanced Manufacturing also offers specialized training that contributes to an educated workforce.
Read about how Keene State is helping Hitchiners'workforce: Climbing the Career Ladder at Hitchiner
---
Applied Research
"For some time, Filtrine has wanted to develop a solar powered drinking water cooler for applications where access to electricity is unavailable. A team of students from the Keene State Sustainable Product Design took on this project and moved from initial concepts to a prototype design looking at various subassembly units. It's a terrific learning opportunity that could ultimately benefit Filtrine."
– Peter Hansel, President, Filtrine
Keene State College students regularly participate in research projects that directly benefit the community and local businesses. As an undergraduate college with a low 18:1 student-to-faculty ratio, Keene State students gain direct experience from working closely with faculty mentors on exciting research projects.
---
Student Consulting Teams
"We worked with students from Keene State's Management program to help identify opportunities to increase sales for one of our product lines. The students did excellent research and made a very professional presentation of creative and thoughtful options. Fresh thinking from smart people!"
– Bob Swartz, CEO, Fenton Family Dealerships
Under the supervision of Keene State faculty, our students can work with you to identify a specific challenge or opportunity and develop a report that offers viable recommendations and solutions that can move your business forward. For example, Safety Studies majors recently worked with Hasbro to complete a noise survey and machine guarding survey. For more on this, click here.
We welcome the opportunity to explore the many ways in which Keene State can become an ongoing resource for your business. Please email or telephone us today!
---
WorkWISE Safety Consultant Matt Hardy at a construction site with the A.W. Rose Construction site supervisor.
WorkWISE is a free, on-site occupational safety and health consultation service for small businesses in NH. For more information see the WorkWISE webpage and a recent NH Business Review article.
OSHA Training Institute and Education Center offers state of the art OSHA training with options for on-site and open enrollment throughout New England in General Industry, Construction, Maritime, Disaster Site Work, and Industrial Hygiene course work. For more information, see their website.
---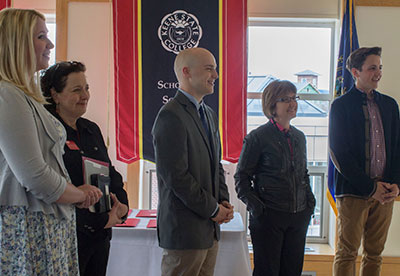 2015 scholarship recipients with supporting faculty members
A unique scholarship and career preparation program for students who aspiring to business careers, this scholarship connects the sponsoring businesses and scholarship recipients early in students' academic lives. By extending learning beyond the classroom through mentoring and internships, this scholarship helps to prepare students for interesting and engaging careers. More about Manufacturing Partners' Scholarship Program
Thank you to this year's sponsors: Hitchiner Manufacturing (Milford, NH), Markem-Imaje (Keene, NH) and Whelen Engineering (Charlestown, NH).
---
Contact Corporate Relations
With more than 20 years experience in the business community, Daniel Henderson has a vision for how education can work with business and industry.
Daniel Henderson Director of Corporate Partnerships and Strategic Initiatives dhenderson@keene.edu
603-358-2121
In the News:
Sustainable Product Design Student Applies Her Knowledge in the Field Keene State Program Strengthens Advanced Manufacturing
Daniel Henderson leads Keene State's Business Outreach Efforts
Will Ferguson the "right product" for Hitchiner
Keene State accelerates STEM efforts
Professor Pellettieiri gets Federal funding for biology research
TRC Executive and Alum John Cowdery comes to Keene State
College and Businesses Start Scholarship Program
Fenton Family Dealerships Honors Keene State Students