Golden Circle Society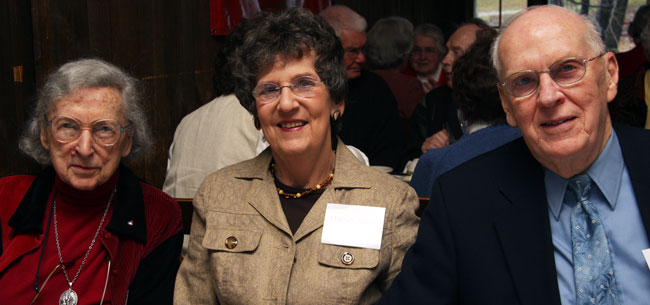 Membership
Membership in the Golden Circle Society at Keene State College is open to all alumni who graduated 50 or more years ago.
History
At Reunion in 1986, F. Marion Tebbetts Wood '26 organized a special alumni gathering during the class meeting time and called it the Golden Circle. The group met primarily during Reunion for many years.
In 1997, Norma Walker '51, who was serving on the Alumni Board, organized a gathering for alumni living at the Havenwood Heritage Heights Retirement Community in Concord. Barbara Auderer Goodridge '34 attended that event and suggested that Norma organize a luncheon at the Cat 'n' Fiddle, also in Concord. Walker got an enthusiastic response, and the Golden Circle luncheons were off and running!
Activities
Beginning with that first Golden Circle gathering in 1997, Norma and the Alumni Association have hosted luncheons for Golden Circle Society members and their guests in various locations throughout the state.
As of 2012, total attendance at over 130 luncheons has exceeded 4,590 (including Golden Circle members, other Alumni and guests).
These gatherings are a wonderful way for Golden Circle alums to stay connected with their classmates and the College. The luncheons are filled with activities, recognition of the classes present, and opportunities to visit with representatives from the College.
Throughout the year, Norma stays busy visiting alumni who live within driving distance, phoning others, and sending out many, many cards and letters. She is determined that all of our Golden Circle Alumni feel cared about and remain connected to Keene State College and each other.
For an events schedule of upcoming Golden Circle luncheons please visit the Alumni Upcoming Events Page
Reunion Gatherings
Each Reunion Weekend in June, as another graduation class celebrates its 50th reunion, that class is welcomed into the Golden Circle. Each class member is presented with a Golden Circle medallion and encouraged to join the Society gatherings throughout the year.
Many members of the Golden Circle classes attend Reunion Weekend every year where they gather at a special meeting on Saturday morning where everyone is encouraged to participate, share news with one another, and just enjoy being together again on Campus.
---
Contact the Alumni Office
Alumni & Constituent Engagement
Barry Alumni House
229 Main Street
Keene, New Hampshire 03435-2701
603-358-2369
800-572-1909