Political Science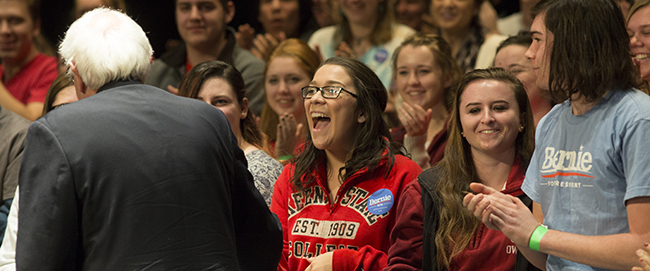 If local, national, and global politics are your passion, the study of Political Science is an opportunity to develop skills and background in political thought and action. From the first "What Is Politics" course through environmental law, conflict management, and internship experiences, Political Science prepares the student for active citizenship.
---
Are you interested in American politics or international relations? Do you care about policy issues like education, health care, pollution, or civil liberties and civil rights? The study of politics might be for you. Politics may be described briefly as the use and abuse of power in a community to obtain individual and social objectives. Political science looks at politics analytically. More about We Talk Politics Here Like Nowhere Else
---
Keene State offers three political science options:
A Bachelor of Arts in political science for majors
A minor in political science
A minor in international studies
In addition, many students who are majoring in other fields take political science classes. More about Degree Overview
---
New Hampshire's first-in-the-nation primary status makes the state a launching pad for presidential and vice presidential candidates, and Keene is a frequent stop on the campaign trail. Opportunities are numerous for students in national politics and government to witness the process in action, and to take part. But the political science program has just as much to offer to students who are interested in politics on a local, or grass-roots, level as well as those who have an international or global focus. More about From Grass Roots Campaigns to Presidential Primaries, Our Students are Involved
---
Dave Wenhold '90, a lobbyist in Washington, DC, interned with a US senator while at Keene State – an experience that got him hooked on politics. "Take every opportunity that comes along," he tells political science students.
Christina Ladam '09 has worked for a nonprofit that focuses on political and economic inequality, and is now starting a PhD program. At Keene State, she says, she loved the small classes and the relationships she developed with faculty members. More about Our Graduates Have 'Gone Forth to Serve'
---
Political science faculty members are energetic and excited at the growing popularity and prospects of political study here. Our teaching staff is rated among the highest in the college – in a college known for excellent teaching. More about Our Faculty Is Top Notch
---
Wise up!
Contact Admissions
Request information
Political Science Department
Nancy Gitchell
Administrative Assistant
603-358-2503
Admissions Office
800-KSC-1909
229 Main Street
Keene, New Hampshire 03435