Upward Bound & Spur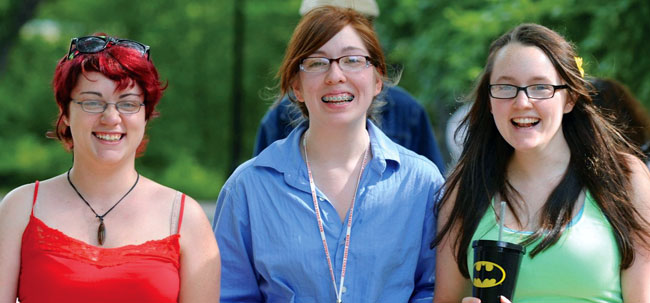 KSC has been operating two college preparatory programs - Upward Bound and Spur - since 1974. These programs provide students with an array of academic, social, and cultural activities designed to improve skills required to navigate post-secondary education.
What Is Upward Bound?
Upward Bound is a year-round college preparatory program. It prepares students for success in high school and enrollment in college. It is funded by the U.S. Department of Education and is free of charge to students who meet eligibility criteria. It serves students enrolled in the following high schools in New Hampshire and Vermont: Bellows Falls Union, Brattleboro Union, Green Mountain Union, Fall Mountain Regional, Keene, Leland and Gray Union, Monadnock Regional, and Springfield.
What Is Spur?
For those families seeking a college preparatory experience whose income exceeds the federal guidelines, Spur is a tuition program. Spur students participate in all the same program components as Upward Bound participants and pay tuition. Any high school student is eligible to apply. The cost for students who do not meet the federal income guidelines is $4,000 for 2016-2017. This includes all expenses for the summer program, as well as academic year services. Partial scholarships may be available to those who qualify, based on federal tax returns submitted at the time of application.
Students participate in both an Academic Year Program and a Summer Residential Program. Typically, a student is enrolled for three to four years.
Program Goals
Prepare students to complete a rigorous high school program of study.
Assist students in applying to and enrolling in college.
Introduce students to stimulating new areas of interest, both academic and non-academic, available at most colleges.
Improve students' reading, writing, math, science, test-taking, and study skills.
Improve skills for relating to others from their own and different cultures.
Give students the experience of cooperative living through self-governing residence on campus.
Allow students to explore leadership potential and strengthen a commitment to self-improvement.
---
Upward Bound & Spur
Beth Zinn
Sr Program Support Assistant
603-358-2325