Opera: Purcell's The Fairy Queen
Redfern Arts Center
Friday, · -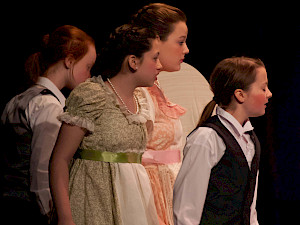 Keene State College presents "The Fairy Queen" Friday, 7:30, April 20 at the Redfern's Alumni Recital Hall. Shakespeare's hilarious comedy mingles with Purcell's whimsical baroque masques for a night of pure delight. The opera, considered a "Restoration spectacular", was first performed in 1692 at the height of the Restoration Period. Purcell used an anonymous libretto, designed as interludes between scenes from Shakespeare's "Midsummer Night's Dream" and is considered the composers finest theatrical work. Interestingly, the score was lost after the composer's death and only rediscovered early in the twentieth century. With Music and Stage Direction by Dr. Matthew Leese, this performance is the culmination of a special collaboration between KSC Opera Workshop, Keene Vocal Consort and Boston-based early music group 'Seven Times Salt' with co-musical direction by Dr. Daniel Carberg and Dr. Christina Wright. Tickets are $5 for students and seniors, $10 for adults. Box Office: (603) 358-2168.
Please contact the Box Office for availability and pricing; [boxoffice@keene.edu]( "mailto:boxoffice@keene.edu") or (603)-358-2168. Please refer to this listing for updated information in the future as we approach the event date.
This event is part of the RAC Music Department calendar and is open to the public.
Contact:
Redfern Box Office
603-358-2168
To request accommodations for a disability, please contact the coordinator at least two weeks prior to the event.