Detective Sent-Tout: The Case of the Adverb
Redfern Arts Center
Tuesday, - · -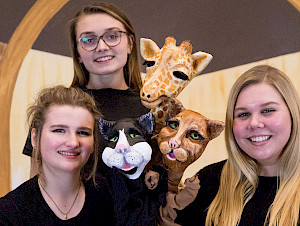 and 2 p.m. Saturday, March 3
Written by Céline Perron. Directed by Jeannie-Marie Brown.
The Adventures of Detective Sent-Tout: The Case of the Missing Adverbs is a detective story and a love story performed as a musical using hand and shadow puppets manipulated by KSC student actors hidden behind a large puppet theatre to be built on the intimate Wright Theatre stage which will allow the audience to get close to the action.
This event is part of the RAC Theatre Department event series and is open to the public.
Contact:
Redfern Box Office
603-358-2168
To request accommodations for a disability, please contact the coordinator at least two weeks prior to the event.