The Bang Group
Redfern Arts Center
Friday, · -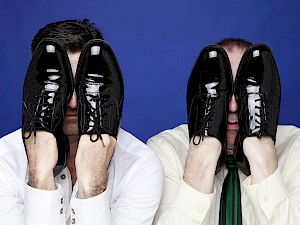 The Bang Group is a New York-based, theatrical dance troupe founded to honor the power of rhythm in the human urge to dance. Choreographer David Parker creates works that are brimming with comic enthusiasm, bringing a blend of tap, body percussion, vaudeville, ballet, and contemporary dance that demands to be heard as well as seen. Expect toe shoes, tap shoes, Velcro suits, and an evening filled with rhythm and fun.
This event is part of the RAC Redfern Series calendar and is open to the public.
Contact:
Redfern Box Office
603-358-2168
To request accommodations for a disability, please contact the coordinator at least two weeks prior to the event.