Percussion Ensemble
Redfern Arts Center
Sunday, · -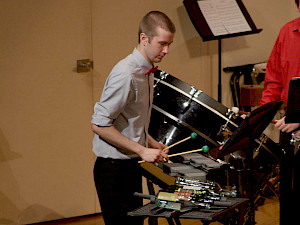 The Keene State Percussion Ensemble presents "Departures", a journey through genres, instrumentation, and locales. The highlight of the show is a concerto for drum set and percussion quartet featuring senior Eric Dill. Drum sets, 5 hi-hats, electronic drums, washboard, spoons, bullwhip, big drums, small drums, marimbas, vibraphone with distortion pedal, and 40 small objects will round out the diverse instrumentation of the evening. Please join us at the Redfern Arts Center, Alumni Recital Hall on Sunday, April 8 at 7:30pm for a night with a beat! Tickets are $5 for students and seniors, $10 for adults. Contact the box office at (603) 358-2168.
This event is part of the RAC Music Department event series and is open to the public.
Contact:
Redfern Box Office
603-358-2168
To request accommodations for a disability, please contact the coordinator at least two weeks prior to the event.