Concert Choir
Redfern Arts Center - 90 Wyman Way
Saturday, · -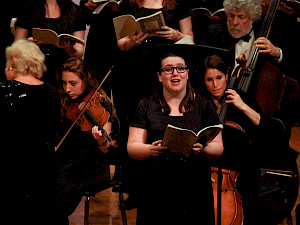 The Keene State College Concert Choir has established a culture of excellence in musical expression, cultivation of musical skills, and exposing students to unusual and diverse repertoire from a wide range of traditions, languages and styles. The ensemble is made up of both majors and a large number of non-majors, which gives those students a chance to escape from their usual focus and have their 'fix' of great music-making each week. Last semester we sang a program of American composers, featuring works from the Shape Note tradition, modern composers, and an a cappella arrangement by the wildly popular Pentatonix. This semester our focus is a program of sacred and secular works from the renaissance, baroque, romantic, and contemporary periods. We are excited about a collaborative workshop at Keene Middle School, where we are preparing a Native American-inspired piece.
This event is part of the RAC Music Department event series and is open to the public.
Contact:
Redfern Box Office
603-358-2168
To request accommodations for a disability, please contact the coordinator at least two weeks prior to the event.