Concert Choir
Redfern Arts Center
Saturday, · -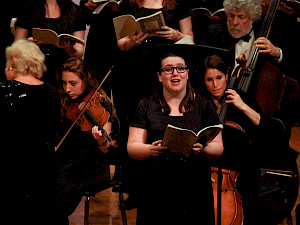 KSC Concert Choir, directed by Dr. Matthew Leese and assisted by pianist Cheryl Sharrock, presents music from the Sixteenth Century to the present day 7:30 Saturday evening at the Redfern's Alumni Recital Hall. This concert features a diverse range of styles and languages with works by Willaert, Vasquez, Monteverdi, Brahms, Gounod, Dawson, Billy Joel, and KSC composer Dr. Heather Gilligan. The KSC Concert Choir has established a culture of excellence in musical expression, cultivation of musical skills, and exposing students to important and diverse repertoire from a wide range of traditions, languages and styles. The ensemble is made up of both majors and a large number of non-majors, which gives those students a chance to escape from their usual focus and have their 'fix' of great music-making each week. Please join us for this family-friendly musical event! Tickets are $5 for students and seniors, $10 for adults. Please contact the box office at (603) 358-2168.
This event is part of the RAC Music Department calendar and is open to the public.
Contact:
Redfern Box Office
603-358-2168
To request accommodations for a disability, please contact the coordinator at least two weeks prior to the event.