Wakka Wakka Productions - Made in China
Redfern Arts Center
Thursday, March 23, 2017 · 7:30 p.m. - 9:30 p.m.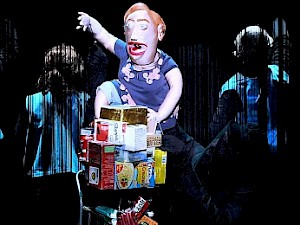 A darkly comic puppet musical inspired by true events, Made in China is a fantastical exploration of human rights, consumerism, and morality as told through the unlikely love story between an odd middle-age woman and a Chinese ex-pat. "Made in China" features over 30 puppets, live music, and video animation. The award-winning visual theatre company Wakka Wakka Productions pushes the boundaries of the imagination by creating works that are bold, unique, and unpredictable. Made in China is suitable for ages 16 and older.
A New York Times critic gave two thumbs up to "Made in China" Wakka Wakka Productions very adult puppet musical that opened off Broadway in January. Read why he liked this "enchanting" comic musical.
This event is part of the RAC Redfern Series event series.
Contact:
Redfern Box Office
603-358-2168
To request accommodations for a disability, please contact the coordinator at least two weeks prior to the event.