Doppelganger Dance Collective
Redfern Arts Center - 90 Wyman Way, , 03435, USA
Thursday, March 30, 2017 · 7:30 p.m. - 9:30 p.m.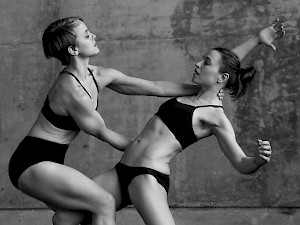 Doppelgänger Dance Collective (DDC) is a duet project between two dancers of similarly versatile technique, powerful physicality, and eagerness to create compelling and dynamic work. Founded by dancers Shura Baryshnikov and Danielle Davidson, DDC fosters the creation and performance of original contemporary dance, often performed with live music. DDC will make their Keene debut with two world premieres as well as recent work from their repertory.
This event is part of the RAC Redfern Series event series.
Contact:
Redfern Box Office
603-358-2168
To request accommodations for a disability, please contact the coordinator at least two weeks prior to the event.