Ensemble Recital Series: Percussion Ensemble
Redfern Arts Center
Tuesday, · -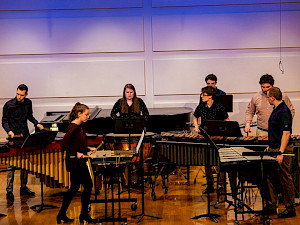 The Keene State College Percussion Ensemble has presented exciting and diverse concerts for decades. The musicians are comprised of percussion majors, music majors, minors and non-majors. The current director of the ensemble is Jim Walker, and past directors have included Christopher Swist, Amy Garapic, William Hanley, Gary Spellissey, John Kelley, Nathan Davis, and Murray Mast. Percussion, often regarded as the "heartbeat" of nearly every musical style, consists of traditional instruments such as timpani, snare drum, bass drum, cymbals, triangle and tambourine. Student performers often integrate new music technologies are combined with classical, ​time-honored instruments. Composers often represented on KSC Percussion Ensemble programs include Harrison, Cage, Cowell, Varèse, Rouse, Lepak, Miki, Reich, Ney Rosauro, Anthony Miranda, David Macbride, Ivan Trevino, John Luther Adams, and Bobby Previte, as well as faculty composers Craig Sylvern, Nathan Davis, Ted Mann, Heather Gilligan, and Christopher Swist.
KSC students will need to obtain their complimentary tickets in person at the Box Office rather than ordering online.
This event is part of the RAC Music Department calendar and is open to the public.
Contact:
Redfern Box Office
603-358-2168
To request accommodations for a disability, please contact the coordinator at least two weeks prior to the event.