NHDI: Unearthed
Redfern Arts Center
Saturday, · -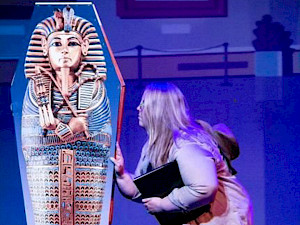 NHDI will produce the 2023 NHDI Event of the Year "UnEarthed!" Join NHDI as we go on a magical tour of a unique museum! Our curator has collected a variety of art and artifacts that are sure to educate and entertain. Over 300 area children will perform an exciting tale as they UNEARTH the richly storied histories of the museum pieces, as well as the artists and communities that produce them. Additionally, children will be challenged to "unearth" bits of their own stories to connect and share. UnEarthed is written and directed by NHDI's Artistic Director, Kristen Leach with music arranged and conducted by Peter Mansfield, NHDI's longtime Music Director, accompanied by a live orchestra. . The show will take place on Saturday, May 27 and Sunday, May 28 at the Redfern Arts Center at Keene State College.
NHDI's art education program uses the art of dance and music to communicate, educate and engage the youth in our community. While the arts are always an important piece of a child's education, it is evident that they need this support and mentorship today more than ever and NHDI's program is essential to their mental and physical well-being.
Childern 2 years & younger are free
This show will also be livestreamed
This event is part of the RAC Community calendar and is open to the public.
Contact:
Redfern Box Office
603-358-2168
To request accommodations for a disability, please contact the coordinator at least two weeks prior to the event.