Ensemble Recital Series: Saxophone & Brass Ensembles
Redfern Arts Center
Sunday, · -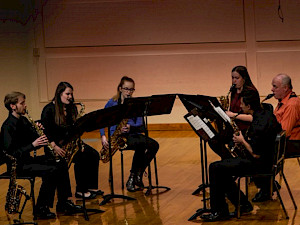 Brass instruments are a vital component of orchestra music. Typically, ensembles of this type consist of horns, trumpets, trombones, euphoniums, and tubas. Woodwind instruments - recorders, flutes, oboes, clarinets, saxophones, and bassoons – pair perfectly with their lustier winds.
KSC students will need to obtain their complimentary tickets in person at the Box Office rather than ordering online.
This event is part of the RAC Music Department calendar and is open to the public.
Contact:
Redfern Box Office
603-358-2168
To request accommodations for a disability, please contact the coordinator at least two weeks prior to the event.