"Fun Home"
Redfern Arts Center
Saturday, · -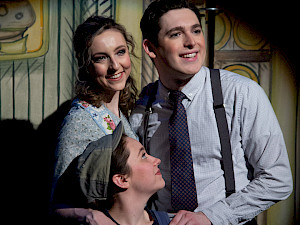 By Jeanine Tesori and Lisa Kron
Directed by Kirstin O'Brien
When her father dies unexpectedly, graphic novelist Alison dives deep into her past to tell the story of the volatile, brilliant, one-of-a-kind man whose temperament and secrets defined her family and her life. Moving between past and present, Alison relives her unique childhood playing at the family's Bechdel Funeral Home, her growing understanding of her own sexuality, and the looming, unanswerable questions about her father's hidden desires. The winner of five Tony Awards, Fun Home is a refreshingly honest, wholly original musical about seeing your parents through grown-up eyes.
KSC students will need to obtain their complimentary tickets in person at the Box Office rather than ordering online.
Both Saturday performances will be performed live with an audience and available to Livestream.
This event is part of the RAC Theatre Department calendar and is open to the public.
Contact:
Redfern Box Office
603-358-2168
To request accommodations for a disability, please contact the coordinator at least two weeks prior to the event.