"Life Sucks"
Redfern Arts Center
- · -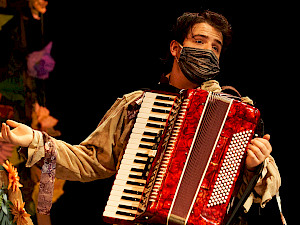 By Aaron Posner
Directed by Tyler Keyes
In this brash reworking of Chekhov's Uncle Vanya , a group of old friends, ex-lovers, estranged in-laws, and lifelong enemies gather to grapple with life's thorniest questions—and each other. What could possibly go wrong? Incurably lustful and lonely, hapless and hopeful, join the Keene State Theatre and Dance Department as these seven souls collide and stumble their way towards a new understanding that LIFE SUCKS! Or does it?
KSC students will need to obtain their complimentary tickets in person at the Box Office rather than ordering online.
This event is part of the RAC Theatre Department calendar and is open to the public.
Contact:
Redfern Box Office
603-358-2168
To request accommodations for a disability, please contact the coordinator at least two weeks prior to the event.