Redfern Presenting Series: Fauré Quartett
Redfern Arts Center
Wednesday, · -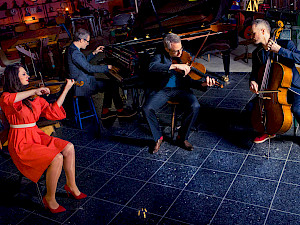 The Redfern Arts Center Presenting Series is proud to feature Germany's Fauré Quartett , a piano quartet committed to discovering new sounds fields in chamber music and performing compositions outside of the mainstream repertoire. Included in this exciting program are the quartet's own arrangements of selections from Mussorgsky's " Pictures at an Exhibition " and Rachmaninov's " Etudes-Tableaux ", both recently recorded on the Berlin Classics label. Listeners will hear unique arrangements of pop songs as well as the quartet's signature Fauré song interpretations realized in new, fresh ways.
This event is part of the RAC Redfern Series calendar and is open to the public.
Contact:
Redfern Box Office
603-358-2168
To request accommodations for a disability, please contact the coordinator at least two weeks prior to the event.