MoCo: The Nutcracker
Redfern Arts Center
Friday, -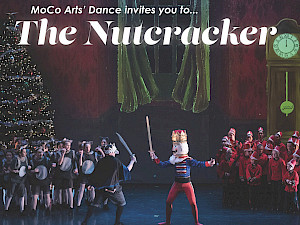 MoCo Arts Dance students are excited to invite you to this year's performance of The Nutcracker!
The Nutcracker will be performed December 17 at 7 p.m., Dec. 18 at 2 p.m. & 7 p.m., and Dec. 19 at 2 p.m. at the Redfern Arts Center at Keene State College. Tickets go on sale TODAY! In-person tickets are $25 per seat and must be purchased in pairs of two. Masks must be worn at all times while inside Redfern Arts Center. To purchase in-person tickets call the Redfern Arts Center at (603) 358-2168 or purchase online.
This year we are offering a livestream of the performance! Follow the online purchasing link to watch MoCo Art's Dance perform The Nutcracker from the comfort of your own home. Tickets to livestream are $40. The show will be streamed live to you on SATURDAY ONLY at 2 p.m. and 7 p.m.
We can't wait for you to join us this December as we perform our favorite holiday classic! For more information about The Nutcracker , give MoCo a call at (603) 357-2100 or email us at info@moco.org.
Sponsored in part by Connection I.T. Solutions.
This event is part of the RAC Community calendar and is open to the public.
Contact:
Redfern Box Office
603-358-2168
To request accommodations for a disability, please contact the coordinator at least two weeks prior to the event.