Redfern Presenting Series: Doctrine of Signatures with Glen Velez and Friends
Redfern Arts Center
Thursday, · -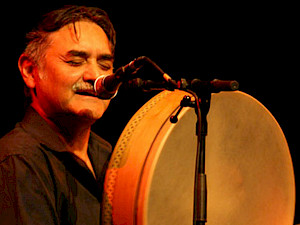 FOUR TIME GRAMMY AWARD WINNER, Glen Velez is the founding Father of the modern frame drum movement and is regarded as a legendary figure among musicians and audiences world-wide. Velez brought a new genre of drumming to the contemporary music scene by creating his own performance style inspired by years of percussion and frame drumming studies from various cultures. Velez's virtuosic combinations of hand movements, finger techniques, along with his original compositional style, which incorporates stepping, drum language and Central Asian Overtone singing (split-tone singing), has undoubtedly opened new possibilities for musicians around the globe, resulting in a shift in modern percussion. Join us for an evening of musical excellence.
Tickets will go on sale two weeks prior to the performance. KSC students will need to obtain their complimentary tickets in person at the Box Office rather than ordering online.
COVID Performance Guidelines : MASK WEARING IS MANDATORY DURING THE ENTIRE PERFORMANCE. If you cannot wear a mask, Livestream Access is available for purchase. Patrons will be physically distanced during the performance. Parties may be seated together as long as they are physically distanced from other parties/patrons. Your cooperation is appreciated.
This event is part of the RAC Redfern Series calendar and is open to the public.
Contact:
Redfern Box Office
603-358-2168
To request accommodations for a disability, please contact the coordinator at least two weeks prior to the event.