Redfern Presenting Series: Motion State Dance Film Series
Redfern Arts Center
Tuesday, · -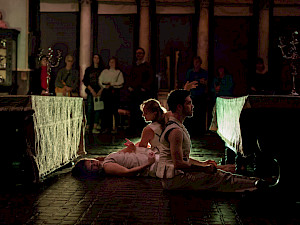 The Motion State Dance Film Series is the only year-long, traveling short film festival in New England devoted to showcasing the diversity of contemporary creative voices exploring the medium of choreography for the camera.
The Motion State Dance Film Series is directed by Ali Kenner Brodsky and Andy Russ. It was previously known as "Kicking & Screening".
Tickets will go on sale two weeks prior to the performance. KSC students will need to obtain their complimentary tickets in person at the Box Office rather than ordering online.
COVID Performance Guidelines : MASK WEARING IS MANDATORY DURING THE ENTIRE PERFORMANCE. If you cannot wear a mask, Livestream Access is available for purchase. Patrons will be physically distanced during the performance. Parties may be seated together as long as they are physically distanced from other parties/patrons. Your cooperation is appreciated.
This event is part of the RAC Redfern Series calendar and is open to the public.
Contact:
Redfern Box Office
603-358-2168
To request accommodations for a disability, please contact the coordinator at least two weeks prior to the event.