Redfern Presenting Series: meSSeS with Janoah Bailin
Redfern Arts Center
Saturday, · -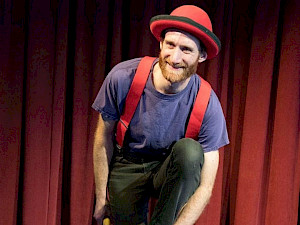 In meSSeS , Janoah...anygoodjokes? juggles several tasks simultaneously: performing & teaching!
During this (optionally interactive) performance YOU learn to juggle as you watch. In moments between acts, Janoah Bailin engagingly guides audience through the essentials: throwing, catching and messy-ing up! Precarious unicycle pathways, vibrating puppetry, jaw-dropping juggling, mesmerizing motions, meticulously prepared hot beverages...Janoah tosses together art forms to tell a tale of teaching, learning & labor, hilariously emerging from a haphazard pile of props.
And (of course!) what circus would be complete without popcorn & banana peels?
Tickets will go on sale two weeks prior to the performance. KSC students will need to obtain their complimentary tickets in person at the Box Office rather than ordering online.
COVID Performance Guidelines : MASK WEARING IS MANDATORY DURING THE ENTIRE PERFORMANCE. If you cannot wear a mask, Livestream Access is available for purchase. Patrons will be physically distanced during the performance. Parties may be seated together as long as they are physically distanced from other parties/patrons. Your cooperation is appreciated.
This event is part of the RAC Redfern Series calendar and is open to the public.
Contact:
Redfern Box Office
603-358-2168
To request accommodations for a disability, please contact the coordinator at least two weeks prior to the event.