Redfern Series: "Urinetown" Livestream Access Only for Saturday, 11/20: In Person Tickets SOLD OUT
Redfern Arts Center
Wednesday, · -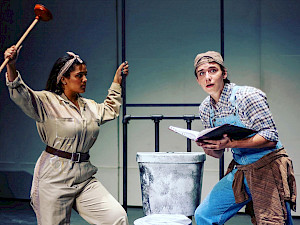 Welcome to Urinetown! A place where, because of a 20-year drought, people have to pay to, shall we say..."use the facilities." It may seem like a simple plot, however, what it ensues is a musical parody that pokes fun at all involved: greedy capitalists, angry lower class citizens, inspired lovers, survivors, dishonest labor leaders and corrupt politicans. Mark Hollmann and Greg Kotis have written a story that puts a mirror up to society and makes you think about all of the repercussions of making a choice...a huge one at that. It has been 20 years after this show appeared on Broadway and it is time to give the people a voice once again! In collaboration with the Theatre and Dance and Music departments, we present to you ** Urinetown!
In Person Tickets are SOLD OUT
Livestream tickets are available for the Saturday performances at 2pm and 7:30pmHERE.
COVID Performance Guidelines : MASK WEARING IS MANDATORY DURING THE ENTIRE PERFORMANCE. If you cannot wear a mask, Livestream Access is available for purchase. Patrons will be physically distanced during the performance. Parties may be seated together as long as they are physically distanced from other parties/patrons. Your cooperation is appreciated.
This event is part of the RAC Theatre Department calendar and is open to the public.
Contact:
Redfern Box Office
603-358-2168
To request accommodations for a disability, please contact the coordinator at least two weeks prior to the event.