KSC Guitar Orchestra: From Brazil to Beijing: Music of Five Centuries & Four Continent
Redfern Arts Center
Wednesday, · -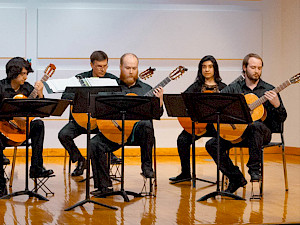 The Keene State Guitar Orchestra will offer a concert entitled From Brazil to Beijing: Music of Five Centuries & Four Continents.
This concert will include works spanning five centuries and four continents by Byrd, Bach, Mozart, Tarrega, Machado, and arrangements of folk music from Colombia, China, Ireland, Chile, Mexico, Argentina, and Spain. Highlights include Celso Machado's arrangements and compositions inspired by the traditions of Northeast Brazil; Sellinger's Rounde by English Renaissance composer William Bryd ; Red Bean Song , a traditional Chinese Folk-song, arranged by Andrew Forrest ; Ciaccona and Gigue by German baroque composer and virtuoso lutenist Sylvius Leopold Weiss , a colleague and prolific contemporary of JS Bach ; Bach's own popular Air from Orchestral Suite no. 1 ; and Colombia, Tierra Querida , a popular Colombian cumbia.
Members are Alyssa Becker, Andrew Szmauz, Austyn Klang, Sandy Perron, and Zach Dafeldecker; the ensemble is directed by Dr. Jose Lezcano , Professor Emeritus and Lecturer at Keene State College. Dr. Lezcano teaches courses in guitar and Latin American music, serves on the New Hampshire State Council on the Arts, and is a twice-Grammy nominated performer and composer with thirty years of service at the College. Guitar students of Dr. Lezcano have been frequently winners of the College's and Department's most prestigious awards and scholarships, and many have gone on to professional careers as performers and music educators.
Tickets will go on sale two weeks prior to performance. KSC students will need to obtain their complimentary tickets in person at the Box Office rather than ordering online.
COVID Performance Guidelines : MASK WEARING IS MANDATORY DURING THE ENTIRE PERFORMANCE. If you cannot wear a mask, Livestream Access is available for purchase. Patrons will be physically distanced during the performance. Parties may be seated together as long as they are physically distanced from other parties/patrons. Your cooperation is appreciated.
This event is part of the RAC Music Department calendar and is open to the public.
Contact:
Redfern Box Office
603-358-2168
To request accommodations for a disability, please contact the coordinator at least two weeks prior to the event.