Flute Ensemble & Clarinet Choir
Redfern Arts Center
Saturday, · -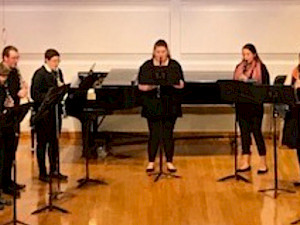 Students play or sing in chamber settings to rehearse and perform repertoire spanning from the Baroque era all the way to the present day. By working in small, collaborative situations, students develop their independence within an ensemble setting while learning to hone their listening skills, shape phrases with their fellow musicians, and create music in partnership with others.
Students will perform various musical pieces on clarinet and flute. The clarinet is a musical-instrument family belonging to the group known as the woodwind instruments. The most common instrumentation for a "standard" flute choir can be seen in much of the literature: piccolo, concert flute, alto flute, and bass flute.
Tickets will go on sale two weeks prior to performance. KSC students will need to obtain their complimentary tickets in person at the Box Office rather than ordering online.
COVID Performance Guidelines : MASK WEARING IS MANDATORY DURING THE ENTIRE PERFORMANCE. If you cannot wear a mask, Livestream Access is available for purchase. Patrons will be physically distanced during the performance. Parties may be seated together as long as they are physically distanced from other parties/patrons. Your cooperation is appreciated.
This event is part of the RAC Music Department calendar and is open to the public.
Contact:
Redfern Box Office
603-358-2168
To request accommodations for a disability, please contact the coordinator at least two weeks prior to the event.