Redfern Series: Apple Hill String Quartet
Redfern Arts Center
Friday, · -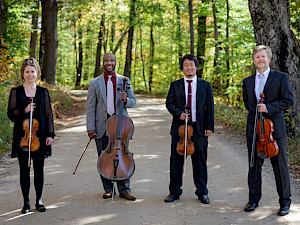 The Apple Hill String Quartet in Concert, featuring music from 1768 -- 2008: F. J. Haydn , Jessie Montgomery , and Ahmed Adnan Saygun. Quartet members are: Elise Kuder and Jesse MacDonald , violins; Mike Kelley , viola; and Rupert Thompson , cello.
Tickets will go on sale two weeks prior to the performance. KSC students will need to obtain their complimentary tickets in person at the Box Office rather than ordering online.
COVID Performance Guidelines : MASK WEARING IS MANDATORY DURING THE ENTIRE PERFORMANCE. If you cannot wear a mask, Livestream Access is available for purchase. Patrons will be physically distanced during the performance. Parties may be seated together as long as they are physically distanced from other parties/patrons. Your cooperation is appreciated.
This event is part of the RAC Redfern Series calendar and is open to the public.
Contact:
Redfern Box Office
603-358-2168
To request accommodations for a disability, please contact the coordinator at least two weeks prior to the event.