Directing II Performances
Redfern Arts Center
- · -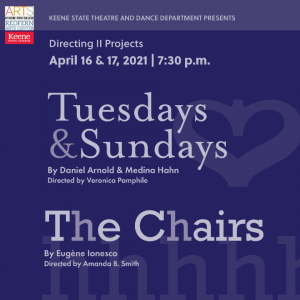 Performances on:
Friday, April 16 at 7:30pm
Saturday, April 17 at 7:30pm
The Department of Theatre and Dance presents the Directing II student's final directing projects! In this first round, they are presenting the works of student directors Veronica Pamphile and Amanda Smith.
The pieces performed are Tuesdays and Sundays by Daniel Arnold and *Medina Hahn, directed by Veronica Pamphile and The Chairs by Eugène Ionesco , directed by Amanda Smith.
Tuesdays and Sundays explores the deeply profound intricacies and complexities of the characters Mary and William. Driven a by poetic text, the story allows us to enjoy the simplest of moments in life. The two characters speculate what it means to be human as they journey through their lives, each moment filled with a wide variety of emotions such as love, pain, joy, and fear.
The Chairs: An Old Man contemplates suicide, but an Old Woman, his wife, convinces him to take a journey through his life to prove his worth. The Old Man remembers the good, the bad, and everything in between with his wife's help. The Emperor, a god-like figure, arrives, and the Old Man begs for help before ultimately deciding to kill himself. The Old Man leaves his dear friend the Orator alone to live with only memories.
Tuesdays and Sundays will be performed live on Livestream for the KSC Community and General Public. The Chairs will not be available for viewing.
Access to the Livestream will require a ticket. Free to the General Public and KSC Community, but donations to the Department of Theatre and Dance are suggested and appreciated.
This event is part of the RAC Theatre Department calendar and is open to the public.
Contact:
Redfern Box Office
603-358-2168
To request accommodations for a disability, please contact the coordinator at least two weeks prior to the event.