Concert Band
Redfern Arts Center
Saturday, · -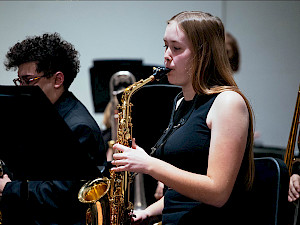 The Keene State College Concert Band presents a short concert, with genres ranging from modern takes on traditional American folk tunes to aleatoric - random, chance - music. The repertoire for this concert is all in a "flex-band" format, a new way of arranging music to be performable despite the instrumentation, rehearsal, and performance constraints imposed by the global pandemic. For instance, Frank Ticheli's In C Dorian - which is, itself, a twist on Terry Riley's In C - can be performed by 3 to 300 players, and is perfect for a number of pop-up concerts around the KSC campus this semester.
This concert will be pre-recorded and shown via Livestream during the scheduled recital time with live commentary from the stage between pieces.
This event is part of the RAC Music Department calendar and is open to the public.
Contact:
Redfern Box Office
603-358-2168
To request accommodations for a disability, please contact the coordinator at least two weeks prior to the event.