Guitar Orchestra: Masterpieces and Vignettes from Five Centuries
Redfern Arts Center
Wednesday, · -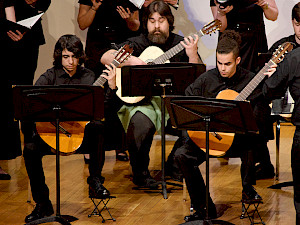 The Keene State College Guitar Orchestra, under the direction of Dr. José Manuel Lezcano , Professor of Music, will present a varied program entitled Masterpieces and Vignettes from Five Centuries. On the program are arrangements of works by Arvo Pärt , Tomaso Albinoni , Johannes Brahms , Enrique Granados , King Henry the VIII , and a Flamenco Sevillanas arranged for Guitar quartet by Dr. Lezcano , from a recording by the Romeros Quartet. Members of the orchestra are Alyssa Becker , Andrew Szmauz , Zach Dafeldecker , and Sandy Perron.
The program will open with two works by King Henry VIII , not generally known for his compositions. In addition to marrying, divorcing, and ordering the beheading of multiple wives (and founding the Church of England), the King was was an accomplished musician and composer, who played several instruments, including the lute, organ, flute and harp, and composed music and poetry, including some works for the Spanish princess, Catherine of Aragon. Baroque Italian composer Tomaso Albinoni's deeply expressive Adagio for strings became more famous as the soundtrack for the film Gallipoli. The German Romantic composer Johannes Brahms , famous for his towering symphonies, concertos, and the German Requiem , also wrote many short charming character pieces like the Waltz on this program. Two Spanish Dances , originally for piano, by the nineteenth-century Spanish composer Enrique Granados , showcase this composer's lyrical and elegant style which references the folk music of his country. Estonian composer Arvo Pärt has become famous for his ruminative and deeply spiritual works; his style has been described as "Holy Minimalism." The program concludes with a lively Sevillanas , a typical Andalusian dance, featuring exciting rasgueado (strummed) chords in flamenco style, and picado melodic passages of exuberant virtuosity.
Dr. José Manuel Lezcano has served in the Music Department of Keene State College for nearly thirty years, and this marks his last concert before going on sabbatical. Under his direction the ensemble has performed at the 700-seat Casa de la Musica in Quito, Ecuador; as outstanding showcase ensemble for the New Hampshire Music Educator's All State Music Festival; at Staten Island's Snug Harbor Cultural Center; at the Boston Guitar Society Ensemble's Festivals; at various high schools throughout New Hampshire; and at bi-annual guitar festivals at Keene State College, curated by Dr. Lezcano. As Professor of Music at Keene State College, Dr. Lezcano teaches and coordinates the guitar program, and courses in Latin American music. He also taught and coordinated music theory for 19 years. His guitar students have been frequent winners of the College's highest awards and scholarships, and Dr. Lezcano has been a frequent guest artist at numerous chamber music series in New England, including Apple Hill, Electric Earth, Wisteria, Portland Chamber Music Festival, and Athenaeum concerts in Portsmouth, NH.
An internationally acclaimed guitarist and composer Dr. José Lezcano has performed hundreds of concerts for over 30 years on four continents. For his Guitar Concerto , which he recorded with North-South Consonance and conductor/director Max Lifchitz on the CD, "Remembrances / Recuerdos," he received two nominations and was semi-finalist for Grammys in the categories "Best Contemporary Composition" and "Best Soloist with Orchestra." In programs of Spanish, South American and original works, he has appeared in major venues, university series, and festivals, including Carnegie Recital Hall, Cuba, Trinidad & Tobago, Spain, Portugal, Ecuador, Colombia, Peru, Brazil, China, Germany, Crete, China, Slovakia, and the Czech Republic as recitalist, collaborative artist, and concerto soloist. Dr. Lezcano earned degrees from Peabody Conservatory (BM guitar), University of South Carolina (MM guitar), and the Florida State University (Ph.D. Music Theory).
About the KSC Guitar Orchestra The KSC Guitar Orchestra provides an opportunity for KSC music majors, students of other disciplines, staff, and community members, to learn and rehearse guitar ensemble repertoire and perform public concerts. Members improve their skills in reading music, following a conductor, effective rehearsal techniques, and preparing parts for rehearsal and performance. They also play a wide and eclectic range of material, from Renaissance music to contemporary music, and including classical works, popular and jazz works, and the most thorny contemporary compositions. The concert is directed for all KSC students, music lovers, guitar aficionados, members of the campus and regional community, and will be presented both live and live-streamed on the Redfern Arts Center webpage. We hope that audience members will appreciate the range of styles and works performed, the accomplishment of these student musicians in preparing challenging repertoire, and the sheer beauty and expressiveness of the works and performances. Membership in the ensemble is open to all students, staff, and community members by audition. Community members must enroll through Continuing Education and follow all Covid testing schedules and protocols established by the College.
This event will be performed live with a KSC community audience as well as Livestream for the general public. Ticketing will be at the door. Please bring your OWL card for admittance.
COVID Performance Guidelines : Keene State wristband required for entry into building. Masks covering one's nose and mouth required at all times while in the building. House will open 15 minutes prior to performance. Patrons will be seated alone. No sitting together will be allowed.
This event is part of the RAC Music Department calendar and is open to the public.
Contact:
Redfern Box Office
603-358-2168
To request accommodations for a disability, please contact the coordinator at least two weeks prior to the event.