Redfern Series: Sara Juli's "Burnt Out Wife"
Redfern Arts Center
Thursday, -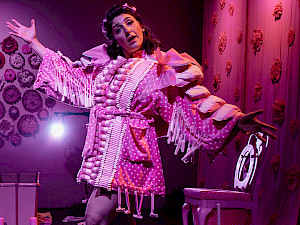 Performances on:
Sara Juli's Burnt-Out Wife takes on topics such as intimacy, loneliness, monogamy, and other marital taboos. Juli employs her comedic text-driven dance style to explore the decay and detritus of marriage with equal parts wit and vulnerability. Taking place in a Pepto-Bismol pink bathroom, this evening length dance-theater-comedy will spark intimate conversations while blowing up the institution with humor, reflection, and a complete re-imagining.
Created and performed by Sara Juli with dramaturgy by Michelle Mola, set design by Pamela Moulton, costumes by Carol Farrell, sound design by Ryan MacDonald, and lighting design by Justin Moriarty.
Adult content and language. Not recommended for children.
This performance will be shown on Livestream only with no live audience and will feature a talk back session with the artist after the viewing of the performance. Please pre-register for the talkback HERE. Participants may also watch the performance from the Zoom link.
The presentation of Burnt-Out Wife was made possible by the New England Foundation for the Arts' National Dance Project, with lead funding from the Doris Duke Charitable Foundation and The Andrew W. Mellon Foundation. Additional support is from the New Hampshire State Council on the Arts.
In addition to the virtual performance and post-show talk back, Sara Juli from** Burnt Out Wife is also presenting several virtual workshops for Keene State students that are also available for the general public to view.
Workshops:
Marriage Under Construction, A Roundtable/Zoomtable Conversation with Sara Juli: In this roundtable discussion on Zoom, Maine-based artist Sara Juli joins panelists from Keene State College's departments of Sociology, Anthropology, and Criminal Justice, Women's and Gender Studies, and the Wellness Center to talk about the topic of marriage in the context of Burnt-Out Wife, a performance that explores topics such as intimacy, loneliness, monogamy, and other marital taboos. The Zoomtable asks the questions: Do people marry for greater health, love, financial security, socio-cultural norms, or family and religious obligations? What are the specific historical, religious, gender and legal factors that impact who can or chooses to marry, and why? What is marriage, why is it so important, and how is it changing?
Zoomtable participants include Dr. Margaret Walsh (Sociology, Anthropology, and Criminal Justice), Dr. Patricia Pedroza Gonzaléz (Women's and Gender Studies/American Studies), Melissa Langill (Staff Counselor/Substance Abuse Specialist, Wellness Center), and Sara Juli (American performer).
Theatre Design Conversation with Justin Moriarty: Keene State alumnus Justin Moriarty 02', Lecturer in Theater and Technical Director for Theater and Dance, Bates College, joins the Keene State College Theatre and Dance program for a discussion with technical and design students on design and technology for the performing arts and shares his journey in theatre since graduating from Keene State College. Justin created the Lighting Design/Production and Stage Management for Sara Juli's Burnt-Out Wife.
Justin Moriarty is a Lecturer in Theater and the Technical Director of the Theater and Dance Department at Bates College where he teaches a course on Stage Management. During the summer, he works as the Production Manager for the Bates Dance Festival.
Please join us for these lively and illuminating workshops further exploring the themes and production of Burnt Out Wife.
This event is part of the RAC Redfern Series calendar and is open to the public.
Contact:
Redfern Box Office
603-358-2168
To request accommodations for a disability, please contact the coordinator at least two weeks prior to the event.