Redfern Series: Flamenco Dance Project: Flamenquando!
Redfern Arts Center
Thursday, · -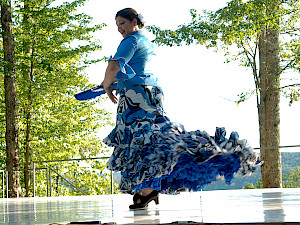 Join us for a lecture/demo featuring performances by Alfonso Cid (singer), Adrian Alvarado (guitarist), and Xianix Barrera (dancer) including a live talkback afterwards with the artists. Please pre-register for the event HERE.
Flamenco Dance Project is a company of artists dedicated to the evolving art of Flamenco dance and music. Founded in 2009 by Sabrina Avilés , its mission is to promote intercultural understanding, community growth, and cultural diversity by showcasing the exceptional talents of US-based flamenco performers. Avilés has performed extensively throughout New England in major venues such as the Cutler Majestic Theatre in Boston, Jacob's Pillow's Inside/Out Series, and the Music Hall in Portsmouth, NH. During their Keene residency, the artists will offer workshops on the history and structure of Flamenco Music and Dance, and will explore flamenco as a modern art form.
This event will also be available to view via the Redfern's Livestream, but viewers will be unable to participate in the talkback through the Livestream.
In addition to the lecture/demo and talkback, The Flamenco Dance Project will be conducting several workshops and class visits with Keene State Students. The public is invited to attend a Wednesday afternoon workshop virtually about the Structures of Flamenco Music as part of the Keene State Department of Music's regular workshop series from 2:00pm to 3:45pm HERE.
Funded in part by the New England States Touring program of the New England Foundation for the Arts, made possible with funding from the National Endowment for the Arts Regional Touring Program and the six New England state arts agencies.
This event is part of the RAC Redfern Series calendar and is open to the public.
Contact:
Redfern Box Office
603-358-2168
To request accommodations for a disability, please contact the coordinator at least two weeks prior to the event.