Keene State College Concert Choir and Vocal Consort: Ensemble Recital Series
Redfern Arts Center
Monday, · -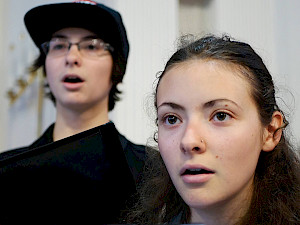 Join us in an online streaming event of diverse choral music for our times.
KSC's Concert Choir and Vocal Consort present Unclouded Day: Choral Music of Hope and Resilience.
Composers and arrangers include Rev. Dr Lena McLin, Harry T. Burleigh, Darmon Meader, David Hamilton, Palestrina, Estêvão Lopes Morago and Manuel de Zumaya.
This performance will be shown on Livestream only with no live audience.
This event is part of the RAC Music Department calendar and is open to the public.
Contact:
Redfern Box Office
603-358-2168
To request accommodations for a disability, please contact the coordinator at least two weeks prior to the event.