Choreographer's Showcase
Redfern Arts Center
Thursday, -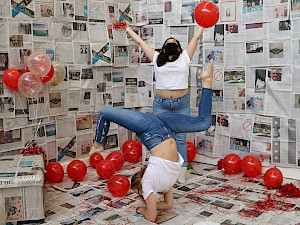 Performances on:
Thursday, December 3 at 7:00pm
Friday, December 4 at 7:00pm
Keene State Theatre and Dance Department presents Choreography Showcase. The class of Research in Choreography is delving into Dance Film this year. Six students worked to direct, choreograph, film, and edit an original dance film. This semester we examined the ways one might create dance through edits within a film, stretching our assumptions about what it means to choreograph. The students experimented, took great risks, and learned new technical skills all while collaborating with one another and leading a team of their peers.
These films will be shown on Livestream.
For this performance, the artists are requesting that patrons consider a donation toJacob's Pillow, home of the reknowned dance festival held every summer in the Berkshires. Jacob's Pillow suffered a huge loss in November due to a fire which destroyed the Doris Duke Theatre. KSC's Dance Program asks for your support of Jacob's Pillow as you enjoy the 2020 Choreographer's Showcase.
This event is part of the RAC Theatre Department calendar and is open to the public.
Contact:
Redfern Box Office
603-358-2168
To request accommodations for a disability, please contact the coordinator at least two weeks prior to the event.