"Church and State"
Redfern Arts Center
Tuesday,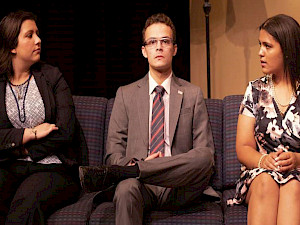 Performances on:
Tuesday, October 8 at 7:30pm
Wednesday, October 9 at 7:30pm
Thursday, October 10 at 7:30pm
Friday, October 11 at 7:30pm
Saturday, October 12 at 2:00pm
Saturday, October 12 at 7:30pm
Three days before his bid for reelection, a Republican US senator makes an off-the-cuff comment to a blogger that gets leaked on "the Twitter," calling into question the senator's stance on guns and God.
That's the premise of Church & State, a comic play by Jason Odell Williams that's being staged by Keene State College's Theatre and Dance Department Oct. 8-12 in the Wright Theatre at the Redfern Arts Center on the college campus. Tickets are $12, $8 for seniors and youth and $6 for Keene State students.
"I feel Church & State tackles both the issue of gun violence, and the connection of religion and politics, with sensitivity," says the play's director, Keith Stevens, a lecturer in theatre at the college and Managing Director of the Peterborough Players. "I appreciate the fact that it addresses serious, controversial issues in an even-handed way."
And in a way that's neither dark nor dismissive. Williams writes that "a heavy drama about heavy topics doesn't interest me. What interests me is a play that gets to the heart of the people around these issues. And when you write about people, you can't help but let them be funny and sad and honest, heartbreaking, and uplifting all at the same time. Because isn't that what being human is?" The play's cast includes Christian Frazier of Manchester, Veronica Pamphile, also of Manchester, Skye Robicheau of Plainfield, Reed Schatz of Bennington, VT, Allison Newey of Pelham, and Allison Bartolotta. Designers are Jayne Bernardi, Mary Robarge, Craig Lindsay, and Shane Horsman; the stage manager is Anna Paula Fialho, and the assistant stage managers are Megan Marcotte and Jayson Cassetta.
This event is part of the RAC Theatre Department calendar and is open to the public.
Contact:
Redfern Box Office
603-358-2168
To request accommodations for a disability, please contact the coordinator at least two weeks prior to the event.