Slavic Soul
Redfern Arts Center
Thursday, · -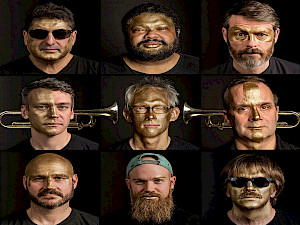 Slavic Soul Party! - NYC's official #1 brass band for Balkan/Soul/Gypsy/Funk- is bringing the party from Brooklyn to Keene, with "some of the most danceable Balkan-Flavored pop this side of the Adriatic" (Global Rhythm). Whether performing on stage, at Carnegie Hall, in Serbian schoolyards or dive bars, this dynamic brass/ percussion ensemble serves up throbbing funk, groove, fiery Balkan brass, and New Orleans-style music, and a huge helping of spontaneous fun!
Creative Connections:
Music Workshop
Post-show reception and Meet and Greet with Slavic Soul Party!
This event is part of the RAC Redfern Series calendar and is open to the public.
Contact:
Redfern Box Office
603-358-2168
To request accommodations for a disability, please contact the coordinator at least two weeks prior to the event.