Ephrat Asherie Dance
Redfern Arts Center
Thursday, · -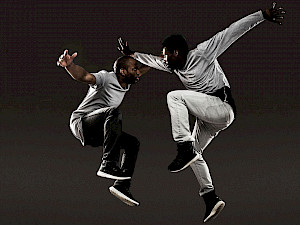 Led by the Boston Globe's "bona fide b-girl" and 2016 New York Dance and Performance ("Bessie") Award recipient, Ephrat Asherie Dance makes its Redfern debut with Odeon , a high-octane dance work for seven dancers and four musicians. Set to the music of early 20th century Brazilian composer Ernesto Nazareth and performed live by jazz musician and brother Ehud Asherie, this original dance layers and remixes breaking, hip-hop, house, and vogue with Nazareth's exhilarating fusion of Afro-Brazilian rhythms and European classical traditions. The result is a match of movement and score that is playful, poetic, and exuberant.
Creative Connections:
Dance masterclass with Ephrat Asherie Dance
Community workshop with Ephrat Asherie Dance
Post-show talkback and reception with the artists
This event is part of the RAC Redfern Series calendar and is open to the public.
Contact:
Redfern Box Office
603-358-2168
To request accommodations for a disability, please contact the coordinator at least two weeks prior to the event.