David Dorfman Dance: A Work in Progress: A (Way) Out of My Body
Redfern Arts Center
Thursday, · -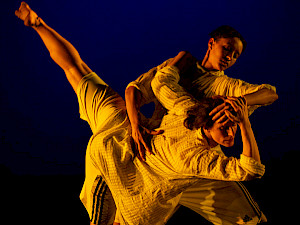 A (Way) Out of My Body investigates the out-of-body experience as related to inter-generational trauma, along with the mental burden and physical impact of surviving personal adversity. In this work in progress, David Dorfman and his company of dancers and musicians will introduce a new work in development by weaving together dance, live music, and theatre, where audiences can explore and realize their own joyous capacity to overcome physical and societal limitations. David Dorfman Dance is committed to creating vibrant works with themes that hit at the heart of the human condition and affirm the resilience of community and the human spirit.
Creative Connections:
Post-show talkback with the artists
Dance masterclass with David Dorfman
This event is part of the RAC Redfern Series calendar and is open to the public.
Contact:
Redfern Box Office
603-358-2168
To request accommodations for a disability, please contact the coordinator at least two weeks prior to the event.