Piti Theatre Company: Sammy and Le Grand Buffet
Redfern Arts Center
Saturday, · -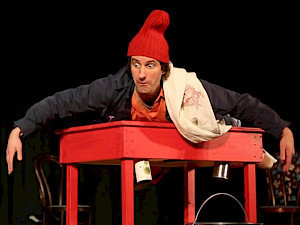 The popular Redfern Family Series returns this season with the Swiss-American Piti Theatre Company presentation of Sammy and Le Grand Buffet. This charming children's show, performed by Jonathan Mirin, sees an American clown in Paris trying to prepare a great feast. Follow the hilarious antics of Sammy as he clowns and juggles his way through this storytelling adventure. This food-filled farce is sure to please audiences of all ages!
Creative Connections:
Post-show family art activity and reception
This event is part of the RAC Redfern Series calendar and is open to the public.
Contact:
Redfern Box Office
603-358-2168
To request accommodations for a disability, please contact the coordinator at least two weeks prior to the event.