Faculty Recital:José Lezcano: From the Fandango to the Bolero
Redfern Arts Center
Sunday, · -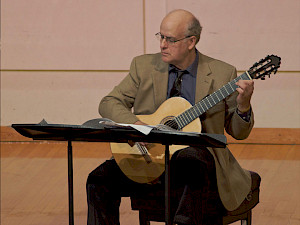 From the Fandango to the Bolero: Music of Spain and Cuba through Five Centuries
This program explores the history and influences of music in Spain and one of her last colonies, Cuba. We explore the 16th century traditions of Catholic Spain through vocal polyphony and the works of the vihuelists, continuing on to the Italians Scarlatti and Boccherini, who while writing in a Baroque & Classical musical language, absorbed some of the influences of Spanish folkloric and flamenco music. The piano music of Isaac Albeniz further absorbs these flamenco traits within a Romantic, virtuoso style, while Joaquin Rodrigo adds modern, neo-classic influences, but also glances back to earlier periods of Spanish music for inspiration. Cuba, along with other formerly Spanish colonies, was acquired by the United States at the conclusion of the Spanish-American War. (Cuba was granted independence soon afterwards but with restrictions on her sovereignty imposed by the Platt Amendment in the Cuban Constitution.) As such, Cuban music reflects a varied inheritance, but the influence of Spanish music, Italian opera, American jazz, and the polymetric rhythms of traditional Afro-Cuban sacred drumming and popular music are especially prevalent. Through works by Leo Brouwer, Eduardo Martin, and Prof. Lezcano, the audience will hear the variety of influences in Cuban music; avant-garde trends, nationalist influences of Afro-Cuban folklore, and a deep lyricism. Guests include pianist Virginia Eskin, cellist Rebecca Hartka, flutist Robin Matathias, and tenor Dan Carberg. Dr. Lezcano's perofrmances have been enjoyed by audiences around the world.
This event is part of the RAC Music Department calendar and is open to the public.
Contact:
Redfern Box Office
603-358-2168
To request accommodations for a disability, please contact the coordinator at least two weeks prior to the event.