Guitar Orchestra & Latin Ensemble Recital
Redfern Arts Center
Wednesday, · -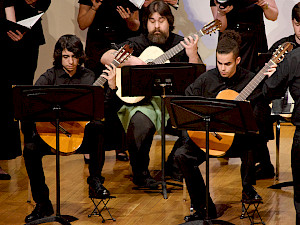 The Keene State Guitar Orchestra and KSC Latin American Ensemble, Cotopaxi, will present a concert, "Globalism in Music: Sounds of China, Cuba, South America, and Europe." The concert is directed by Dr. Jose Lezcano, professor of music, and will feature guest harpist Franziska Huhn and guest alumnus Logan Gabriel. The Guitar Orchestra's program includes an arrangement of a Chinese folk song, "Bai Mudan" (the White Peony), and Leo Brouwer's "Cuban Landscape with Rain," a complete Vivaldi concerto" Renaissance Bourrees and Pavanes by Michael Praetorius and Pierre Attaignant, and an arrangement of a Chopin Valse.
Cotopaxi will play folkloric indigenous music of the Andes on authentic indigenous panpipes – charangos – and Western instruments—guitars, flutes, harp, and brass instruments. Huhn will play music arranged by Lezcano for the ensemble and harp, duos for guitar and harp, and solos originally composed for the Paraguayan Harp.
Lezcano is a twice Grammy-nominated composer and guitarist with performances at important venues and festivals on four continents, and a frequent performer on chamber music series in New England and Florida. In 2016 he received an Ewing Arts Award from the Keene Sentinel in recognition of his international performing and teaching career and of his contributions to the arts in the Monadnock region of New Hampshire.
This event is part of the RAC Music Department calendar and is open to the public.
Contact:
Redfern Box Office
603-358-2168
To request accommodations for a disability, please contact the coordinator at least two weeks prior to the event.