Percussion Ensemble
Redfern Arts Center
Thursday, · -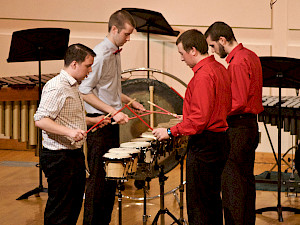 Clave!
"A Survey of Afro-Cuban Rhythm"
Congas, bongos, timbales, claves, cowbells and drum set playing rhumba clave, son clave, cascara, bembe, tumbao. Everything from traditional dance music to West Side Story have been infused with these distinctive rhythms. The program will feature Amadeo Roldan's 1930 Ritmicas. These are considered the first notated works for the modern percussion ensemble. The Keene State College Percussion Ensemble will also play Afro-Cuban influenced songs by Mongo Santamaria, Pat Metheny, David Garibaldi and more.
This event is part of the RAC Music Department calendar and is open to the public.
Contact:
Redfern Box Office
603-358-2168
To request accommodations for a disability, please contact the coordinator at least two weeks prior to the event.