Concert Band
Redfern Arts Center
Thursday, · -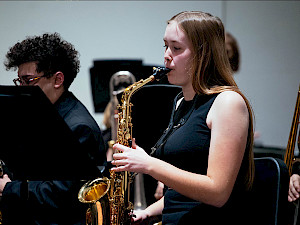 The Keene State College Concert Band, under the direction of Dr. John T. Hart Jr., will present its second concert of the academic year on Thursday, February 20th at 7:30pm in the Main Theater of the Redfern Arts Center. The program, Outsider Perspectives , will feature works by Chance, Ticheli, Bizet, Grainger, and Colgrass. Each piece on the program represents a composer's musical depiction or perception of a culture other than their own. The audience will hear two composers' takes on Korean folk music, one formed during the Korean War and one from as recent as 2013; a classic example of musical exoticism in Bizet's Carmen Suite; an Australian-American's satirical view of English folk music; and a Canadian-American composer's reverent take on Balinese music.
This event is part of the RAC Music Department calendar and is open to the public.
Contact:
Redfern Box Office
603-358-2168
To request accommodations for a disability, please contact the coordinator at least two weeks prior to the event.