Guitar Orchestra and Latin American Ensemble
Redfern Arts Center
Wednesday, · -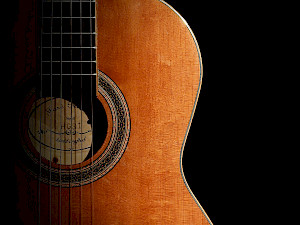 Keene State Guitar Orchestra and the Keene State Latin-American Ensemble, "Cotopaxi," present "Here and Now, Young and Old", at the Redfern's Alumni Recital Hall on Wednesday, November 14, 2018 at 7:30 pm. Both ensembles are directed by Dr. José Lezcano, Professor of Music.
The eight-member Guitar Orchestra will perform music spanning four centuries, including "Here and Now" by the contemporary Italian composer Carlo Domeniconi; dance movements by the Renaissance composers Anthony Holborne and Pierre Attaignant; and a set of pieces from Peter Tchaikovksy's "Album for the Young," originally for piano and arranged for guitar ensemble.
Also on the program is Ludwig V. Beethoven's "Adagio" originally for mandolin & piano, arranged for guitar ensemble, featuring requinto and 6-string bass guitar; its radiant lyricism recalls the style of his better known Violin Concerto. The program will begin with selections performed by the KSC Latin-American Ensemble, "Cotopaxi," named after an Ecuadorean volcano that towers over the capital city of Quito. The 27-member Latin Ensemble, using authentic folkloric Andean instruments like Sikuri (panpipes), Charango (small Andean guitars), Bombo (drum), and Chachjas (goat-hooves rattle) will present works from the Andes, Colombia, and Cuba.
Please join us for this exciting musical event! Tickets are $5 for students and seniors, $10 for adults. Please contact the Box Office at (603) 358-2168 for more information.
This event is part of the RAC Music Department calendar and is open to the public.
Contact:
Redfern Box Office
603-358-2168
To request accommodations for a disability, please contact the coordinator at least two weeks prior to the event.