Faculty Artist Recital: Duo au Courant
Redfern Arts Center
Friday, · -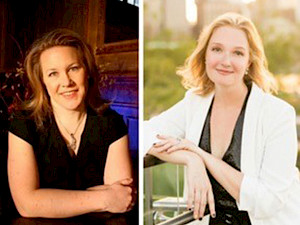 Duo au courant was created to highlight some of today's most powerful music written for voice and piano. Stephanie Weiss and Christina Wright-Ivanova seek to perform works with a focus on diversity and inclusion, global community, immigration, and issues of music and peace.
This powerful program includes Dominick Argento's Pulitzer Prize winning song-cycle, "From the Diary of Virginia Woolf" and both Robert Schumann and Hugo Wolf's beautiful settings of the character Mignon from Goethe's novel, 'Wilhelm Meister's Apprenticeship'.
Recent engagements for the Duo include the opening concert at the Berlin Art Song Festival, performances in Sydney, Australia and throughout the USA. They are committed to engaging students and creating a think-tank environment where students are challenged to think about music and its place in the world today.
Please join us for this stirring musical event in the Alumni Recital Hall at the Redfern Arts Center. Tickets cost $5 for students and seniors, $10 for adults. Please contact the Box Office at (603) 358-2168 for more information.
This event is part of the RAC Music Department calendar and is open to the public.
Contact:
Redfern Box Office
603-358-2168
To request accommodations for a disability, please contact the coordinator at least two weeks prior to the event.