String, Flute, & Clarinet Ensembles
Redfern Arts Center
Saturday, · -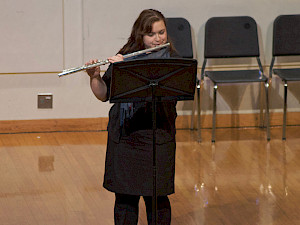 Please joins us on Saturday, December 8, 2018 at 3:00 for an afternoon of strings, flutes, and clarinets!
The String Quartet will perform the first movement of Antonin Dvorak's Quartet No. 12 in F Major Op.96 'American Quartet' , as well as the first movement of Borodin's Quartet No.2 in D Major.
The Flute Ensemble will be performing a set of three Madrigals by Samuel Adler, an arrangement of Debussy's Arabesque 1, arr. by Kris Dorsey, and "Dizzy", by Nicole Chamberlain, which features various extended techniques, such as jet whistles, note bending, flutter tonguing, and "beat boxing".
The Clarinet Choir will perform Wind in the Reeds by Gordon Jacob, Turning Point by Belgian composer Patrick Hiketick, and Andy Scott's Paquito, a tribute to Paquito D'Rivera. You will hear the full range of the clarinet family from the Eb sopranino to the Eb contra alto.
The Ensembles will perform at the Redfern's Alumni Recital Hall. Tickets are $5. Please contact the Box Office at (603) 358-2168 for more information.
This event is part of the RAC Music Department calendar and is open to the public.
Contact:
Redfern Box Office
603-358-2168
To request accommodations for a disability, please contact the coordinator at least two weeks prior to the event.