Choral Collaboration: Stravinsky's Symphony of Psalms
Redfern Arts Center
Friday, · -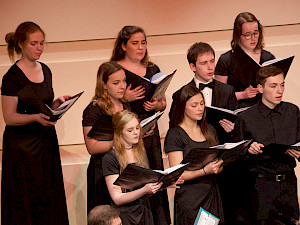 As one of the foremost composers of the 20th century, Igor Stravinsky broke new ground in classical music. His dramatic "Symphony of Psalms" was no exception, making waves when it premiered in both Brussels and Boston in 1930. Audiences in the Monadnock region will have what we believe will be the first opportunity to hear this unique piece live in December when Monadnock Chorus teams with the Keene State College choirs to present the work on December 7th at 7:30pm at the Redfern Arts Center in Keene.
The concert, presented in collaboration with Dr. Sandra Howard and the Keene State College Music Department, will also showcase each choir individually, featuring additional short works by Gabrieli, Holst, and Z. Randall Stroope.
"We are excited to be collaborating with Keene State College to present this challenging work," said Monadnock Chorus Artistic Director Dr. Matthew Leese. "Our combined groups will include 140 voices and full orchestra — a robust ensemble that will do credit to Stravinsky's monumental composition".
Orchestration for the Symphony of Psalms also breaks the mold, and is one of the reasons the piece is performed so rarely outside of large urban areas. Leese points out that "Stravinsky purposefully eliminated the typical violins and violas, instead highlighting many unusual and additional colors of woodwinds and brass to create a truly unique orchestral experience. A significant battery of percussion adds to the impressive sound world".
In addition to the musical performances, musicologist and Keene State Professor of Music Dr. Joseph Darby will give a 7pm pre-concert lecture. With significant scholarly experience in the areas of twentieth century music and Soviet Russia, Dr. Darby will speak about Stravinsky's life and work, and his influence on 20th century musical composition.
The Monadnock Chorus, winner of a 2018 Ewing Arts Award, is celebrating its 60th season in 2018-19. The group is proud to be a volunteer, non-auditioned community chorus providing quality choral singing opportunities for area residents. The Chorus presents two major concerts each season— in December and in May. In August 2019, Monadnock Chorus will tour through Canada's Maritime Provinces, presenting Dan Forrest's "Requiem for the Living."
More information about the December concerts and Monadnock Chorus can be found at www.monadnock-chorus.org. To purchase tickets for the December 7th concert, please go to: https://www.keene.edu/arts/redfern/events/1525903871278/
This event is part of the RAC Music Department calendar and is open to the public.
Contact:
Redfern Box Office
603-358-2168
To request accommodations for a disability, please contact the coordinator at least two weeks prior to the event.